How to decide what cabinets to buy?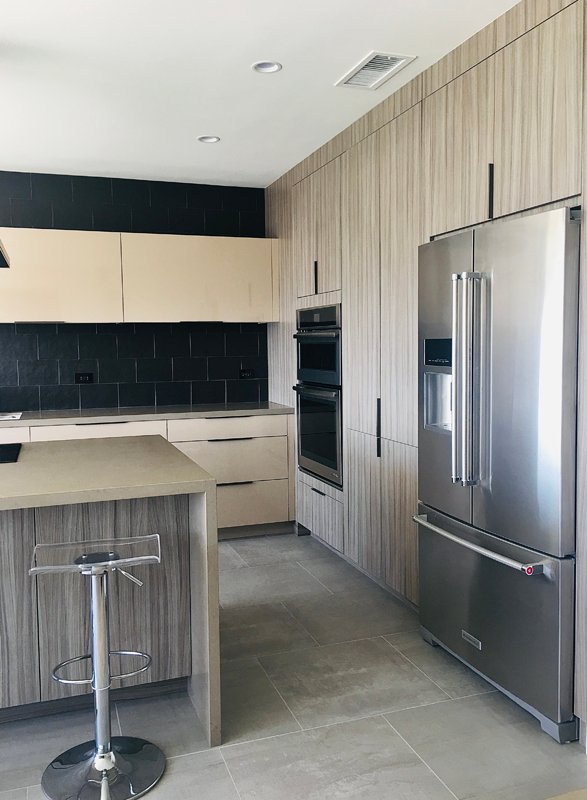 One of the main reasons most of us start to think about remodeling our kitchens
has to do with lack of storage, or lack of a preferred aesthetic. And with so many products available; how can one decide? Stay with us for a little longer to find a simple way to figure out what products would best fit your needs.
You must first decide, how long you plan on staying at your current property,
A higher end product will come with a limited lifetime warranty and cost more compared to a semi-custom basic level cabinet line, which may have a 5 year warranty.
Decide the number one problem you need to resolve, are you just tired of the look of your kitchen, but have ample storage space? Or is your storage so wasteful and inaccessible that stuff gets lost on the corners of the kitchen to only be found once the demolition takes place? What is your number one reason for wanting a new kitchen?
These probing questions at the very start of your remodeling process, will get you closer to identifying the correct product for your project. Hang in there; we are just getting started.
So you now know, about how long you plan on staying at your property, be it a couple of years or this may be the last kitchen you remodel.
Budgeting yourself properly plays a big role in choosing what to buy. Just as when you're shopping for a vehicle. Decide on entry level, middle of the road, nice but not over the top, good value overall. Or perhaps you are in the luxury market, and want to make a statement and would rather use top of the line cabinetry, with famous name brands, and access to more accessories than you can think of.
Now here are the actual different types of cabinets listed from the least expensive, to the most expensive, and a pro and con for each one.
1. In stock unfinished cabinets, available at the local home improvement store.
The Number one Pro, is immediate availability and least cost.
Cons: Usually made of Particle board construction, not durable, have to be finished or painted on site,
Which means a finish that is not very durable.
2. RTA In stock frameless cabinetry, Particle board boxes. *think of IKEA*
Pro; this line can look very clean, modern, and is usually available in stock. *this may no longer be the
case* a lot of items that used to be "In stock" are having a hard time getting re-stocked in a timely manner.
Cons: modifications are not possible. styles of doors, and colors are not interchangeable, warranty may
Be shorter, 1 year to possibly 5 years.
3. RTA in stock framed cabinetry, Plywood construction.
Pro: this product is available as a Made in the US line, fast delivery, higher quality compared to the
particle board frameless or framed lines.
Cons: they may not have all the choices of door styles and color combinations you may want.
4. Semi-Custom framed or frameless cabinetry, Plywood construction
Pro: there are modifications allowed, more choices compared to the RTA cabinet lines, comes fully
assembled and ready to be installed. Your kitchen or bath can look very high end with the right design and
use of their additional accessories and misc. items available on their spec book.
Cons: lead times can vary between 9-17 weeks depending on the cabinet manufacturer selected. There
might still be some design limitations since customizations are usually kept at a minimum. Offers a good
value at a reasonable cost.
5. Semi-Custom framed, frameless and inset. Plywood construction. (Above entry Level)
Within the same manufacturer, there are usually two different lines one can select to design with, one is
an entry level, limited modifications kind of product, and the other offers an entire array of modifications
that will enhance the look of any space.
Pro: a creative designer can let their ideas shine, custom finishes are available, as well as customized
cabinets and hundreds of door style, wood species and color choices.
Cons: using the higher end semi-custom or fully custom cabinet lines will take a longer lead time to be
Completed, and will be at the top of the cost compared to all prior cabinet types. Their lead time will also
Be the longest, you may need to wait up to 4 and 5 months to get an order completed.
6. Name brand frameless cabinetry, usually made in Europe, and imported upon order completion.
Pro's: usually brands at this price level and category are well known and stablished, instant recognition of
The brand is expected.
Con's: this type of cabinetry is going to be at the highest cost level. It requires a skilled draftsperson to get
The architectural renderings sent to the client for review or approval.
7. Local made custom cabinetry in plywood construction:
Pro's Materials can be available sooner than some of the other higher end choices, missing items, or
Replacement parts, can be made available faster compared to the other types of cabinetry.
Con's the one major issue with using local made cabinetry, is the quality of the paint or stain finish.
We are not able to use a baked on finish methods for products made in California. Cost will be at the
highest possible compared to the previous semi custom lines.
From experience I can tell you most clients fall in the category of a step up from the RTA cabinet lines, which offers more choices, better quality of materials, some customization at a competitive price.
Study each one and decide which fits your needs better.
I hope this has demystified the process for you to make an informed decision.
And if you need a little more guidance don't hesitate to contact us. We will be happy to help you.